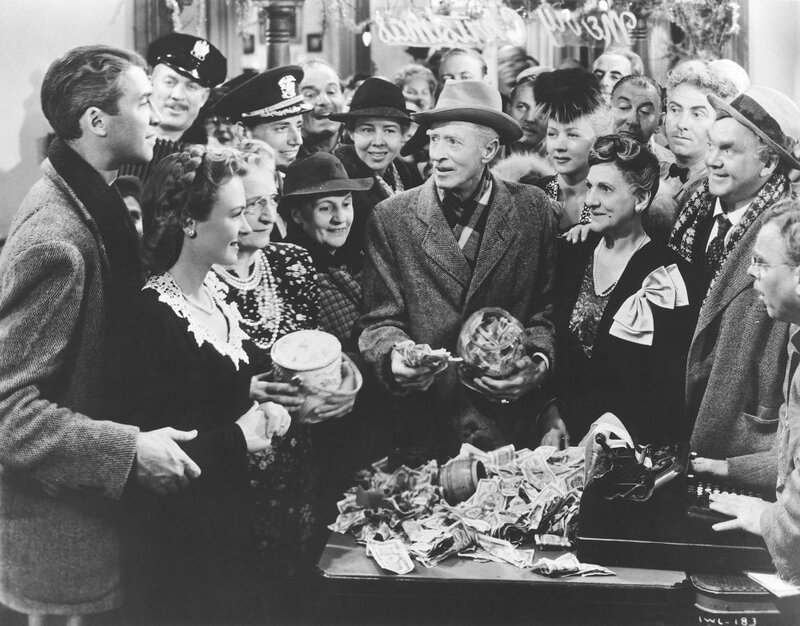 | Date | Time |
| --- | --- |
| Mon 24th December | 11.30am (Doors 10.30am) £5 entry |
| Mon 24th December | 3.30pm (Doors 2.30pm) Usual prices apply |
PURCHASE MORNING TICKETS ONLINE
PURCHASE AFTERNOON TICKETS ONLINE – BALCONY SEATS ONLY
Our annual Christmas Eve family delight is back and this year we're hosting an 11am and a 3.30pm screening of Frank Capra's 1946 classic starring James Stewart.
Frank Capra | 1946 | USA | 130 mins
Cast: James Stewart, Donna Reed, Lionel Barrymore, Henry Travers
Oscar-winning director Frank Capra's (It Happened One Night) masterpiece, the profoundly charming It's a Wonderful Life stars Jimmy Stewart (Rear Window) as everyman George Bailey, whose youthful dreams have been overwhelmed by responsibilities to his community; down on his luck and on the brink of suicide on Christmas Eve when a guardian angel (Henry Travers) arrives to show him how the sleepy town of Bedford Falls would have ended up if he'd never existed. Set on Christmas Eve, this profoundly touching reverse-Scrooge fable is a seasonal classic.
*"Capra's Dickensian masterpiece […] A genuine American classic"*_ ***** Peter Bradshaw, The Guardian
All times listed are the programme start time unless otherwise stated. Films start approx 30 mins after the programme start time.