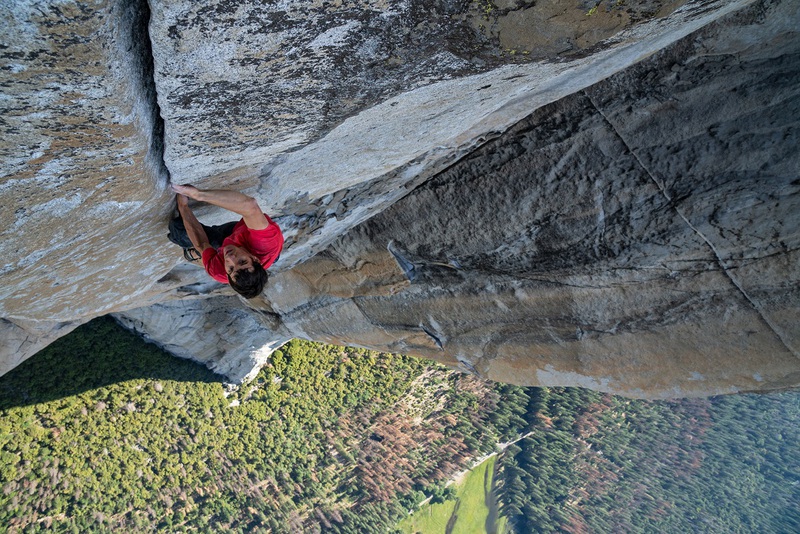 PREVIEW SCREENING: FREE SOLO WITH LIVE Q&A LINK UP
| Date | Time |
| --- | --- |
| Tues 11th Dec | 6.15pm |
Dir: Jimmy Chin, E. Chai Vasarhelyi | USA | 2018 | 100 mins
Documentary
From award-winning filmmaker E. Chai Vasarhelyi and world-renowned photographer and mountaineer Jimmy Chin comes this heart-racing portrait of climber Alex Honnold as he prepares to achieve the unprecedented: climbing the face of Yosemite National Park's 3,200-foot El Capitan without a rope. One of the greatest and most terrifying athletic feats imaginable, the climb's exacting standard is perfection or death; but while Honnold is training he is also falling in love – threatening his focus, and immeasurably raising the stakes. Capturing Honnold's death-defying climb with vertigo-inducing camerawork alongside more human and intimate moments, Free Solo is a stunning and unforgettable documentary.
Tickets at usual cinema prices can be bought in advance via our booking agent TicketSource online at www.ticketsource.co.uk/hbpicturehouse or via the Ticketsource box office tel. 0333 666 3366 (open 9am-7pm weekdays, 9am-5pm Saturday). A booking and payment processing fee of 7.5% of the ticket price applies to all TicketSource bookings. Telephone bookings also incur a fee of £1.75 but this includes the postage of tickets.
Providing we haven't sold out in advance, tickets also will be available on the door from 5.30pm for cash payment.
All times listed are the programme start time unless otherwise stated. Films start approx 30 mins after the programme start time.