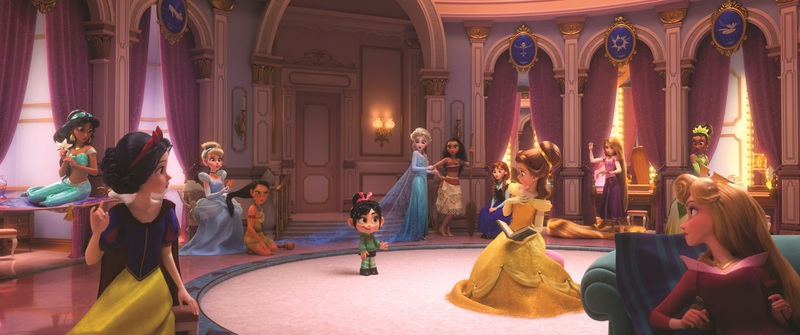 RALPH BREAKS THE INTERNET
| Date | Time |
| --- | --- |
| Fri 28th Dec | 1.30pm A/D |
| Sat 29th Dec | 1.30pm A/D |
| Sun 30th Dec | 1.30pm A/D |
| Sun 30th Dec | 4.30pm A/D |
| Mon 31st Dec | 12.45pm A/D Autism Friendly |
| Tues 1st Jan | 1.30pm A/D |
| Weds 2nd Jan | 1.30pm A/D S/T |
| Thurs 3rd Jan | 1.30pm A/D |
The screening on Mon 31st December is an Autism Friendly screening (everyone welcome). More details here. For the Autism Friendly screening, the actual film start time is shown, as there are no adverts and trailers being screened. The other screenings include ads/trailers and the film will start at 12.45pm. Doors at 12pm for all.
Dir: Rich Moore, Phil Johnston | USA | 2018 | 112mins
Voice cast | John C. Reilly, Sarah Silverman, Kristen Bell, Gal Gadot, Taraji P. Henson, Kelly Macdonald
Six years after the events of Wreck-It Ralph, Ralph (John C. Reilly) and Vanellope (Sarah Silverman) go on an exciting new adventure! When the steering wheel controller on the Sugar Rush game console breaks and Mr. Litwak unplugs the machine, they must evacuate to other games and use the arcade's new internet connection to find a replacement. Along the way, they encounter new customs, worlds and characters – including trendy algorithms and the Disney Princess line-up with The Muppets, Star Wars, Disney Animation, Marvel Comics and Pixar characters. With an all-star voice cast including Gal Gadot, Taraji P. Henson, Jane Lynch and Kelly Macdonald.
The screening on Weds 2nd December will be shown with subtitles projected onto the screen for the hearing impaired, and these are signified by the symbol S/T on the website and in our monthly brochure. Please note all other screenings of these films are without subtitles.
A/D For the visually impaired, we offer audio description via a headset, on this film. Please ask at the Box Office to borrow a headset. All films with audio description available are signified by a single asterisk or A/D on the website and in our monthly brochure. For more information visit our Audio and Soft Subtitles Page
All times listed are the programme start time unless otherwise stated. Films start approx 30 mins after the programme start time.