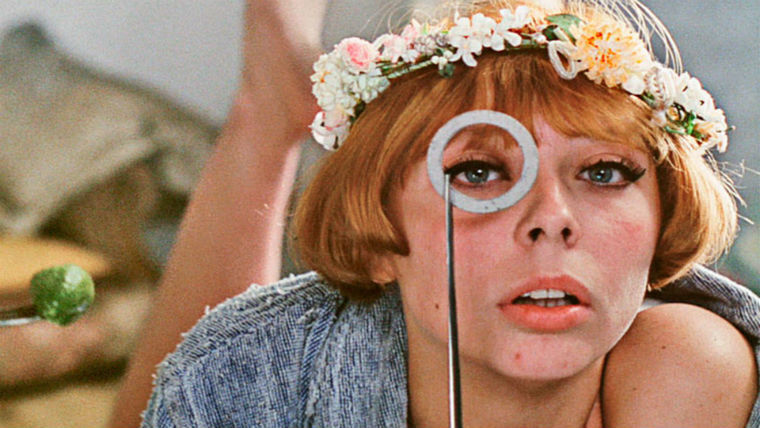 REVOLT SHE SAID: DAISIES & SAUTE MA VILLE
| Date | Time |
| --- | --- |
| Thurs 23rd Aug | 7.45pm |
In August Hebden Bridge PIcture House will be screening 2 films as part of the Revolt She Said season; films reflecting on the volcanic change following the events of May 1968, sharing intersectional, queer and feminist stories of revolution. These stories are inspiring and disquieting to this day. One hundred years since the first women got the vote in the UK, fifty years since the protests of May '68, where is the feminist revolution now?
Curated by the incredible queer feminist film collective Club des Femmes, this touring season makes many rarely screened titles newly available for cinemas and audiences.
Dir: Věra Chytilová | Czech Republic | 1966 | 89 mins including the short film | Czech w/Eng ST
Cast: Jitka Cerhová, Ivana Karbanová, Marie Češková
Boredom, bikinis and a blistering critique of the beauty myth: from its first seconds, Vera Chytilova's ever-fresh Daisies kicks wickedly against the pricks. An innovative, brilliantly absurd masterpiece of the '60s Czech New Wave, the film was made three years before the Prague Spring but dissent is clearly in the air as we witness the misadventures of two young women (Jitka Cerhová, Ivana Karbanová), who rebelliously scam rich dates, cut off their own heads and wreck an official feast. The film's anarchic attitude saw it banned by the Czech authorities and it stayed under wraps for years. If you haven't caught up with this genuine feminist classic, see why it's as thrilling now as it was 50 years ago.
+ accompanying short film:
Saute Ma Ville (Blow Up My Town)
Dir: Chantal Akerman | Belgium | 1968 | 13 mins
When she was just 18, Chantal Akerman dropped out of film school to make this brilliant and disturbing short film, exploring the claustrophobia of the domestic. A caustic prelude to her masterpiece: Jeanne Dielman.
All times listed are the programme start time unless otherwise stated. Films start approx 30 mins after the programme start time.