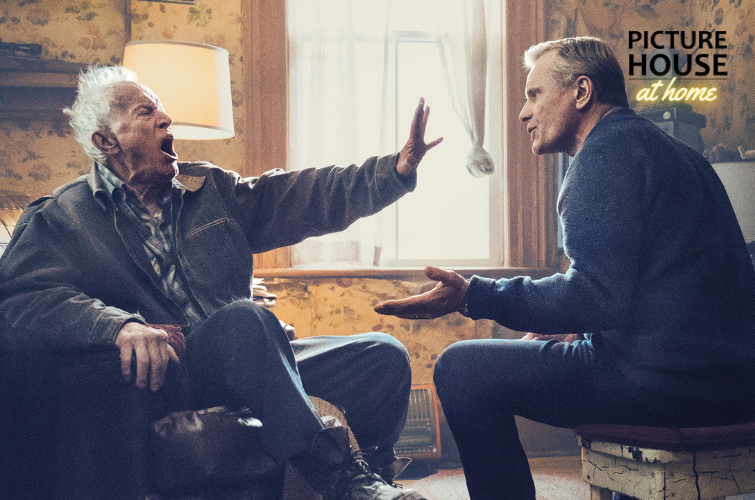 We're delighted to team up with Modern Films to bring you an exciting selection of films for you to enjoy from the comfort of your home. We will benefit from 50% of the film hire fee, so you're supporting your local indie cinema whilst seeing the best of this year's film releases. Enjoy!
"offers 80-year-old Henriksen the meatiest role of his astonishing career" The Guardian
Directed by Viggo Mortensen
Drama | English | 112 mins
Academy Award® and BAFTA nominee actor Viggo Mortensen explores the fractures and contrasts that make up a modern family in his directorial debut, FALLING, an intimate drama about a son's relationship with his ageing father.
John Petersen (Mortensen) lives with his partner Eric (Chan) and their adopted daughter Monica in Southern California. His father Willis (Henriksen/Gudnason) is a farmer whose attitudes and behaviour belong to a far more traditional era and family model. When Willis travels to Los Angeles for an indefinite stay with John's family in order to search for a place to retire, these two very different worlds collide.
Willis' behaviour can be both caustic and funny – with outbursts that shock his liberal family. This endears him to grand-daughter Monica, but it almost proves too much for John, and his sister Sarah (Linney), bringing old wounds back to the surface and creating new ones along the way. With Willis' memory in rapid decline, his thoughts turn back to his first wife Gwen (Gross), a love that still consumes him a lifetime later. As father and son confront the events that have torn them apart, we see the gamut of their relationship over 40 years, and their differing recollections of John's mother, Gwen: from dark to light, from rage and jealousy through to acceptance, laughter, and hard-won grace.
Please note: Once purchased, you will be able to watch the film for the next 48 hours. For more information, and to find out how streaming works and which devices can be used to view this film, please check this FAQs page. If you experience any technical issues, please contact info@modernfilms.com.
Please read our Cinema FAQs page detailing our safety guidance and refunds policy.