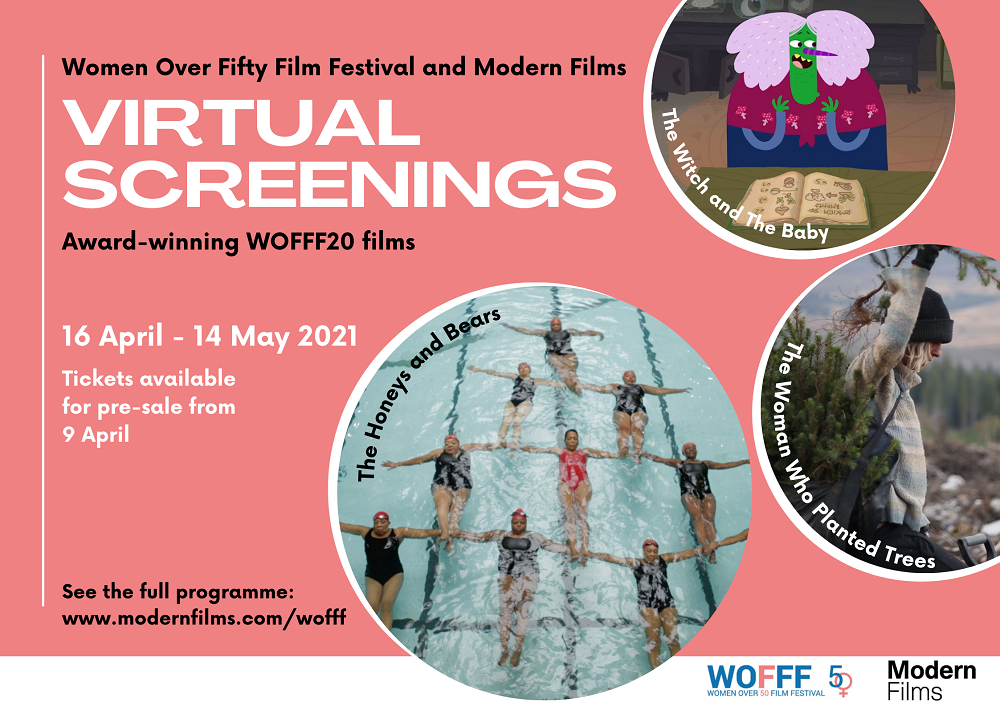 BOOK YOUR VIRTUAL TICKET ONLINE NOW
Director: Various
Runtime: 104 minutes
With subtitles and closed captions for d/Deaf and hard of hearing people.
In partnership with Modern Films, WOFFF virtual Best of the Fest is packed with award-winning films of witches, warriors and women who roar! What's more, you can support WOFFF and your local independent cinema (us!) with your ticket-buying power too.
Women Over Fifty Film Festival (WOFFF) showcases international films by and about older women. Now in its 7th year, WOFFF creates a film community centred around older women and inspires younger people to re-think ageing and see creative potential in an often-invisible demographic.
The virtual ticket includes a q&a with Felicity Beckett and filmmakers Jessie Leong, Julie Middleton, Nicola Cross, Sara Jordan, Lisa Harmer, Natacha Horn, Ailis Logan, Kathleen Strouse and Paul Gatto.
THE PROGRAMME
The Witch & the Baby
A Russian witch needs a baby for a spell to make her young again. But when she brings home an infant princess, things don't quite go to plan.
Evgenia Golubeva | Russia | 2020 | Animation | 5min
I am a Fellrunner
Fell running is rooted in the mountains of Cumbria, North West England. Through the words of her poem 'I am a Fellrunner', Julie Carter reveals how she is defined as a fellrunner in this place where she belongs.
Jessie Leong, Julie Carter | UK | 2020 | Documentary | 4min
My Mama, A Man
Julie had a list of 60 things she wants to do before she turns 60. Top of the list: be a 'man' for a day.
Helena Middleton | UK | 2019 | Documentary | 9min
Becky
Becky tells her story: from cutting to completion.
Nicola Cross | Kenya, Trinidad and Tobago | 2020 | Documentary | 14min
Lady What Does
A cleaner and her boss face a terrible mess. Will the cleaner tidy everything up as usual or this time will one of them meet a sticky end?
Sara Jordan | UK | 2019 | Drama | 6min
Don't Shoot the Messenger
A celebration takes a dark turn.
Bianca Malcolm | USA | 2019 | Experimental | 2min
SWING
An abstract, stylized dark comedy about abuse in familiar situations, highlighting how accustomed many of us have become as both the victims and perpetrators.
Natacha Horn | UK | 2017 | Experimental | 10min
The Honeys and Bears
Members of the Harlem Honeys and Bears, a synchronized swim team for seniors, describe the freedom of the water.
Veena Rao | USA | 2015 | Documentary | 3min
Porcelain
A lifetime together. A table, two chairs, some porcelain teacups and saucers. A story of life, dependency love and loss.
Roswitha Chesher | UK | 2017 | Experimental | 5min
The Last Egg
A reflection on the ups and downs of ageing and the menopause.
Sue Bridge | UK | 2019 | Animation | 5min
The Woman Who Planted Trees
Rachel is a is semi-nomadic, Scottish tree planter. In 35 years she has grown her own roots in over 9 million trees.
Elspeth Parsons | UK | 2019 | Documentary | 22min
Wine Lake
A homeless alcoholic and an artistic backpacker clash on a Sydney street. A tale of art and innocence, poetry and connection.
Platon Theodoris | Australia, Ireland | 2019 | Drama | 10min
CHAMP 5
Rita Willey, a cannery worker for 38 years, was famous for her blazing speed as a fish packer. No one was faster than Rita. But in the heat of competition, will she be crowned The World's Fastest Sardine Packer?
Paul Gatto, David Jester & Kathleen Strouse | USA | 2020 | Documentary | 8min
Please note: Once purchased, you will be able to watch the film for the next 48 hours. For more information, and to find out how streaming works and which devices can be used to view this film, please check this FAQs page. If you experience any technical issues, please contact info@modernfilms.com.
How we list our screening timings has changed. We now list the actual film / live arts event start time, not the time of our pre-show programme. Doors usually open 45 mins before this. Please arrive in good time before the start time listed, and enjoy!
Please read our Cinema FAQs page detailing our safety guidance and refunds policy.