Summer of Soul Review by Terry Logan
Posted on 5 August 2021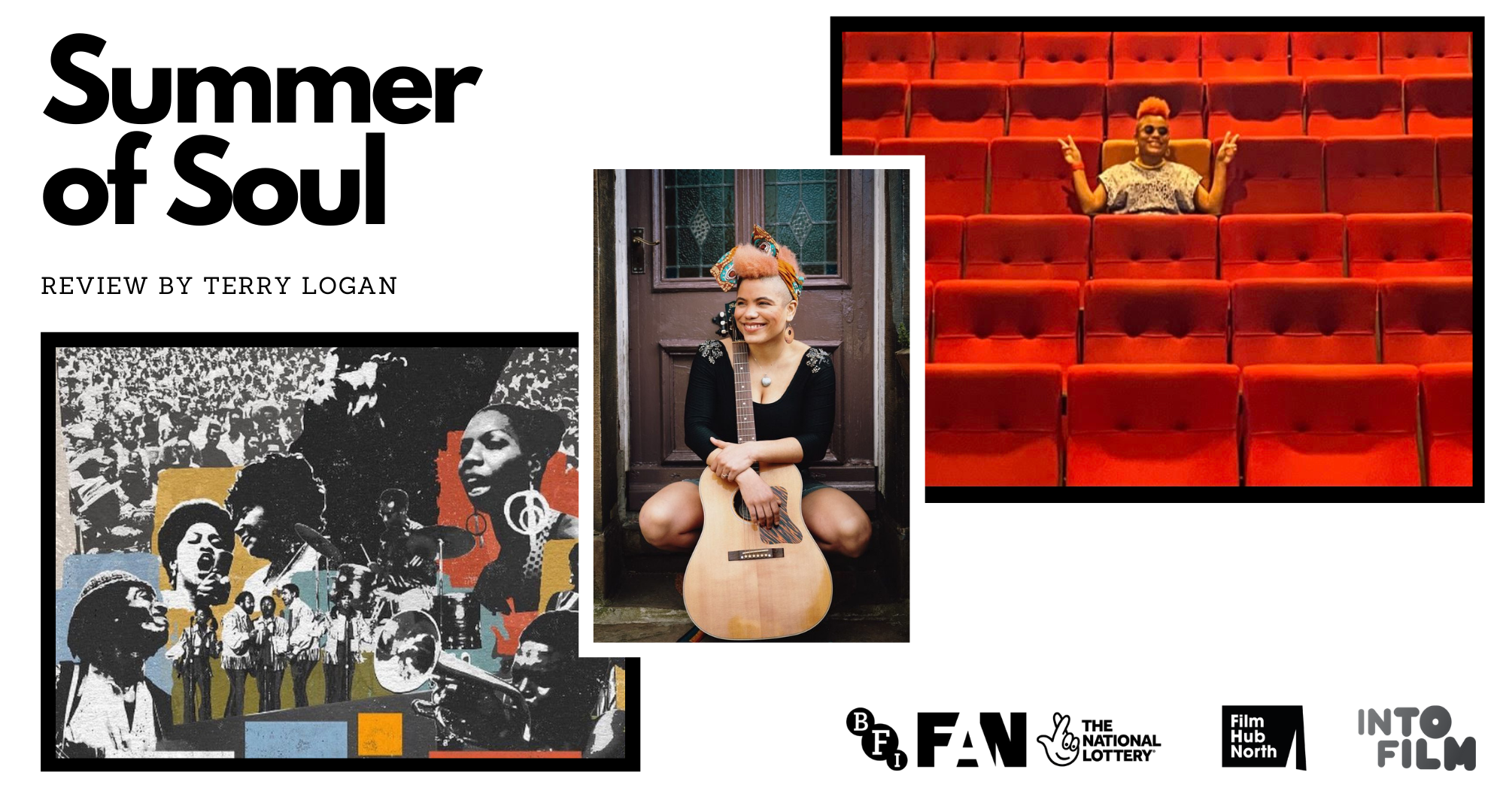 Film review – Summer of Soul (…or, When the revolution could not be televised)
'Groovy, hope, shivers'
Booming through every fibre of my body is the melody of skilful beats. This deliciously unexpected drum solo is orchestrated from none other than a 19-year-old Stevie Wonder. The roar of a crowd, the breath of flashing colour and bell-bottomed trousers, the hint of sweat and freedom in the poetic scene before me urges me to feel immersed in a unique experience that is the 1969 Harlem Cultural festival.
Even from the opening scenes, I have lost myself and I'm unaware that I'm sitting in a cinema on one of the hottest days of the year as my whole body grooves in unison with the audience around me. I have to consciously stop myself from throwing my arms in the air, whipping off my top and releasing my popcorn onto the unsuspecting heads of my fellow cinema goers. None of us can hold in the spontaneous urge to sing out loud which I later apologise for to aisle D. If all this could happen without the hint of a rum and coke in my hand, I knew that this musical documentary was different. I knew that I was tasting a piece of history that would leave me forever changed and all I had to do was open my eyes and ears, sit back, relax, and let music lead the way.
From the moment I was asked to review, 'The Summer of Soul, (…or When the revolution could not be televised)' by Hebden Bridge Picture House I could barely contain my excitement at being able see some of the most influential black, musical artists of the 20th century. Think of the greatest possible line up to a gig and then times that by 100. As a little girl I idolised the remarkable roster of talent from Nina Simone to B.B King, from Gladys Knight and the Pips to The Staple Sisters, from Sly and the Family Stone to Mahalia Jackson and The 5th Dimension, just to name but a few. They are the voices and the melodies that have helped to guide my own path as a black, singer-songwriter.
My joy escalated through the knowledge that I would be viewing live performances from an archive that had not seen the light of day since it was capture over 50 years ago. What I had not fully bargained for was the realisation that this film was more than just a musical exploration and appreciation of legends from the past. It is an incredibly important piece of forgotten, black legacy that reflects so many of the political and social movements of its era and even those of today.
Following the assassinations of JFK, Malcolm X and Rev Martin Luther King Jr, at the height of the civil rights movement, came a growing concern that violence and unrest would take over communities.
Tony Lawrence, a New York promoter and performer of this period, masterminded a series of six consecutive concerts over the summer of 1969, knowing that this event would go a long way in defusing the hot bed of anger at the social injustices that were happening. It was more than just a resounding success. It became one of the channels that helped propel significant social change and define a new generation of black identity.
Hal Tulchin recorded every second of the 40 hours of footage. What struck me most about the filming wasn't just the breath-taking performances but how he managed to make the members of the 300,000 strong crowd such a vital part of the story. Singers hollered hello to random fans climbing trees, just to get a better view. Wild dancing from young and old radiated bodies being possessed by the music. A spectrum of cutting-edge fashion spoke of a melting pot of cultures and created an unparalleled 'fro envy within me that I had never felt before. Expressions on faces in response to what they were experiencing made me laugh out loud and want to cry in equal measure.
Most notably, the view of a sea of blackness unified by the love of something greater than themselves was electrifying to see. It was something that had never been witnessed or experienced before in living memory and hasn't quite been repeated since.
Director Questlove cleverly interweaves interviews from past attendees and the artists themselves in between the live performances, offering context and colour to each scene. Hair standing moments for me had to include Nina Simone's rendition of 'Young, Gifted and Black', alongside a heavily controversial and political poem she performs to the backdrop of African drums. I cannot describe fully how she captures a sense of shock, hope and purpose like no one else ever could.
Mavis Staples of the Staple sisters and Mahalia Jacksons' version of Rev Martin Luther King Jr favourite song, 'Take My Hand Precious Lord,' was so haunting that I could almost feel each note of pain surge through my body. Every act still tingles through my memories weeks after seeing them because, in my opinion, it's rare to see artists singing with true conviction, for a purpose other than manufacturing a growth of their social media followers.
One of the most touching moments of the film is watching artists and attendees, simply watching the footage back themselves. It's in these moments that you are aware of the full impact this event had and still has. Marilyn McCoo from the 5th Dimension says with joy "we just wanted our people to see us perform how we wanted to perform and that meant the world to everybody". One of the attendees, with tears in his eyes recalls that "it was all just so beautiful".
It's almost unbelievable that footage of such significance and power has taken so long to be viewed, especially as it has been dubbed the 'Black Woodstock' of its day, happening in the same year as its counterpart. The shameful fact of the matter is it's probably because it was so significant and powerful for the black community that it hasn't been able to be shown until now. It's a reminder, therefore, of why movements such as Black Lives Matter are still so vital in helping to make visible the inequalities that continue to exist in our society.
As a parting note, I implore you to see this film, not only because it's a triumph in visual and audio pleasure, not only because it's an archive of past musical masters but because it calls to our moral duty to listen to the unheard chapter of a brave and dark history, finally bringing to light how we can move forward through the power of love. It also only feels right to give this film the justice it deserves by seeing it on the big silver screen, so I hope you don't miss this opportunity. Oh, and while you're there, if you could check the aisles for a t-shirt that I might have accidently left behind, that would be greatly appreciated.
Peace out and lots of love,
Terry Logan
P.S. You can see this amazing film at Hebden Bridge Picture House in August on Friday 20th at 8pm, Saturday 21st at 5pm and Tuesday 24th at 8pm.
Tickets for under 26s are just £5 for all film screenings at the Picture House and on Tuesday 25th all under 26s can get New York Style Street Food from Duke Street Food AND your cinema ticket for a FIVER with your 16-25 ticket