Covid-19 Safety Information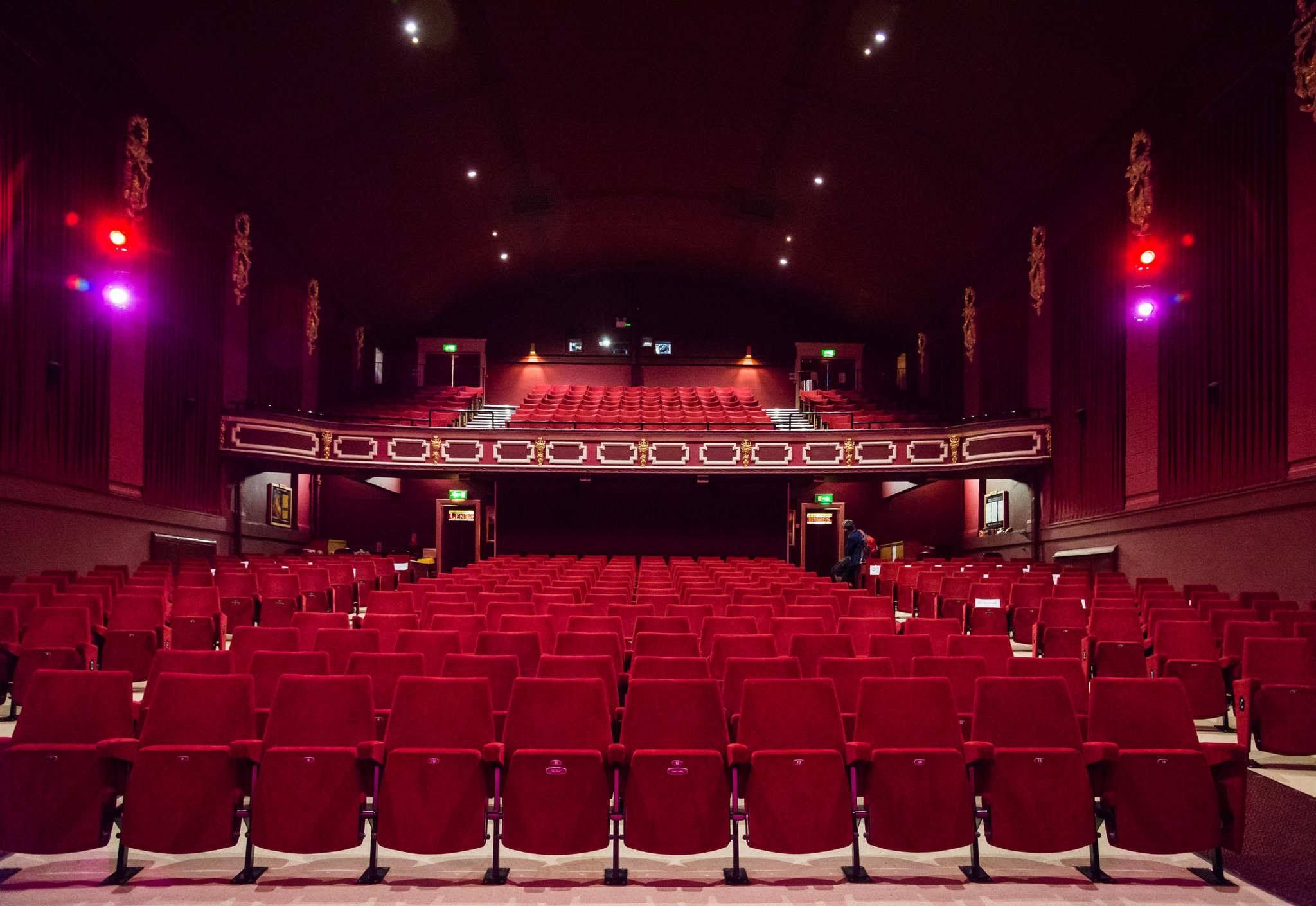 Please buy your tickets in advance online or from the cinema if you can – the box office is open for advance sales during screenings.
Purchasers of tickets on the door (those who have no access to book online or in person in advance) should arrive 30 to 45 minutes before the feature start time. Please note we cannot guarantee we won't have sold out of tickets ahead of the screening.
Booking Tickets Online – Summary
1. Tickets are on sale via each film page of the website. From the list of films ('What's On' / 'All Shows' on a mobile) click on the film title to get to the film's own page.
2. Click on the >Book Your Tickets Here< link on each main film page to start your ticket booking, then click next to the time of the screening you want to go to.
3. When booking stalls (downstairs) tickets the system automatically takes the adjacent seat to your booking off sale, on each side of your group, unless you are next to an aisle, ensuring a 1 metre distance from those seated to either side and in front and behind you. In the balcony, where rows are closer together, the system will ensure at least one vacant seat around each seating group to the direct front, back and side of your booking.
4. Then, select each red seat and then the ticket type (adult / senior / child etc), and repeat this for each person in the group. Click 'Add to Order' when you have added all the ticket for that film.
5. You can then either 'Add More Tickets' for another date / film or press 'Continue' to check out. You then need to create an account, and password, which you will use for future bookings. Order confirmation will be sent to you by email to the email address you created your account with.
6. Your email confirmation of booking includes a QR code – this is how you gain entry to the cinema. You MUST print your QR code or bring a smart phone / tablet which can display your QR code to gain entry (check all of the code is visible as part codes / partially printed codes won't scan). Our scanner does not hold a customer list because tickets remain on sale online until 5 minutes before the film start time.
7. Booking confirmation emails / screen shots without a full QR code are not accepted since we are refunding / exchanging a great deal of tickets due to Covid-19 and these may no longer be up to date.
8. If you have had new seat details and a new QR code emailed to you since you made an online booking and received your original confirmation email, THIS is the one you need to bring with you. This is because you booked a seating group bigger than you needed (e.g. took up 4 seats for a booking for 2, meaning the other 2 could not be sold by us) so we had to move your seats to allow a larger group to book the ones you originally chose.
9. If you have booked tickets and cannot print or display your QR code, or get it printed by someone else for you, please contact us ahead of time via info@hebdenbridgepicturehouse.co.uk so we know you will not have a code with you on the day and can check your booking details and have them ready on the door ahead of time. We will not be able to do this on the door.
10. You can access all your ticket details via the booking website by logging in to your accounts and yout ticket details will then be stored in 'My Tickets' (which will become visible via the menu items on the left hand side of the screen after you have logged in).
If after you book the tickets you are feeling unwell, please don't visit us. Ticket exchange / credit information can be found below.
INFORMATION ABOUT VISITING THE CINEMA
How is the cinema keeping everyone safe?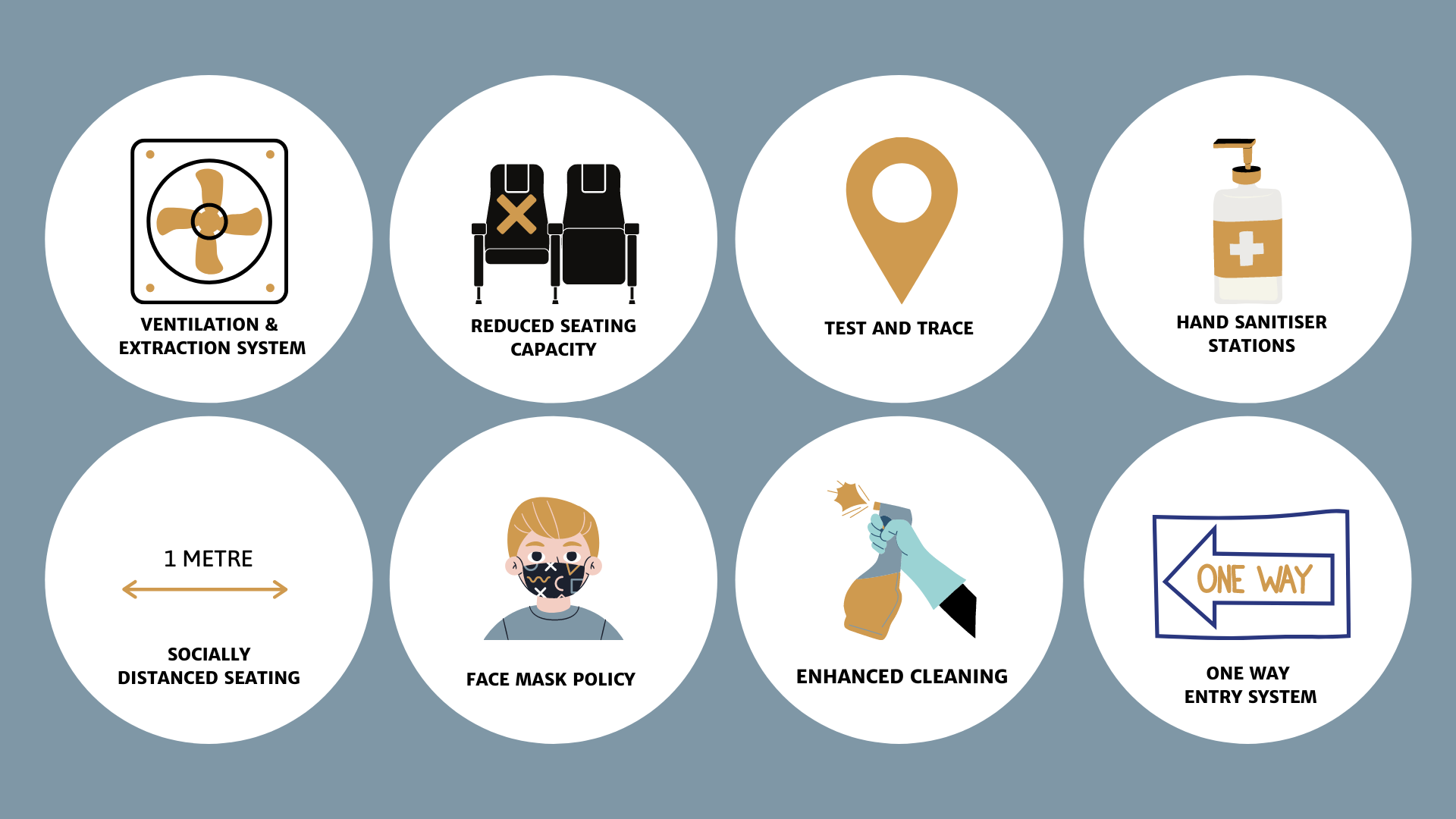 We've made lots of changes to keep everyone safe. Here are just some of the measures we have in place:
1. We are wearing face masks and ask you to wear a face mask too – except when eating and drinking in your seat. Masks should be worn whenever you are moving around the cinema. We are asking our customers and staff to continue wearing face masks, in order to protect each other.
2. All seats are reserved and tickets are sold in advance. This is to ensure appropriate staffing levels and everyone is able to be seated at a distance from other customer groups. You must sit in your reserved seats for everyone's safety – please check your booking for row and seat number. If you have no ability to book tickets in advance (booking online or in the cinema in advance) tickets can be bought from our box office 'on the door' – please arrive at least 30 minutes before the film start time to leave time for you to queue and for us to serve you.
3. We are keeping seating groups apart from each other and we are taking one seat off sale each side of your group's booking, which together with our generous spacing between the rows in the Stalls, ensures 1 metre minimum between parties. In the balcony, where rows are closer together, the system will ensure at least one vacant seat around each seating group to the direct front, back and side of your booking.
4. We are allowing for an enhanced cleaning regime for during screenings and between screenings on the same day and we have developed an extended cleaning regime for our daily morning cleans.
5. We installed a new ventilation and air extraction system in the ceiling of the auditorium in 2020 to replace the original very old system. It isn't air conditioning, but air extraction, and draws older air out of the building via ceiling vents and out through the lantern in the roof, drawing new air in at ground level. It therefore does not affect the temperature of the venue. The system will be on during all screenings at a level where it changes the air inside the cinema at above the Government recommended air change rate of 5 times per hour.
6. Staff are having their temperatures checked at the start of their working day.
7. We have a one way system in place during the doors (entry) period and we are asking everyone to maintain as much distance from others as possible when moving around the building. On arrival you will choose whether to visit the kiosk or go straight to your seat. Once you're seated you won't be able to double back to the kiosk until the feature has started. At the end of the film you can choose to exit to the right of the screen via our accessible fire exit or via the main front doors through which you entered.
8. We are using ticket scanners to read the QR codes on your printed ticket or smart phone screen so you and our staff are distanced. Please hold your print out or smart phone out at arms length for us to scan the code – so we can remain a good distance away from you at check in.
9. There are nine touch free hand sanitiser points within the cinema, including on entrance and exit.
10. We are asking for kiosk purchases to be made by contactless debit card payment to avoid unnecessary cash handling. Please note we do not accept credit cards.
11. We have installed an extensive protective screen at the kiosk and box office counter to protect you and our staff members.
12. We ask those who use our headsets and bluetooth receivers for audio amplification or audio description to bring their own headphones or earphones (with mini jack) to plug into our receivers. This is more hygienic, since we can effectively clean the receivers between customers but not the headsets. If you forget to bring your own, we have a small number of lightweight headphones for sale at the kiosk for £6.
Please note hirers of the venue may run their events differently to how we operate our screenings.
ANSWERS TO QUESTIONS ABOUT YOUR CINEMA VISIT
How do I buy tickets?
Please see our Box Office page for information on prices, tickets for children and young people and how to buy tickets. Links to tickets will be posted on each film page as they become available for sale (accessed via the 'Film & Live Arts' menu from the home page, then select 'What's On').
If you would like to exchange a paper complimentary ticket, Seat Sponsor free ticket or card 2019/2020 issued gift voucher for advance tickets you can do so in the cinema foyer at the counter during a screening (that is once the doors period is over and the queues at the counter are gone), or on the door around 30 minutes before the film starts (please do not leave this until the last minute). Thursdays from 11-12.30 and during the weekend matinee film screening times might be the most convenient times to book in advance in person.
Do I need to wear a mask?
We ask you to wear a face mask at all times inside our building, including the auditorium. Masks may be removed to drink and eat refreshments purchased from the cinema kiosk, whilst you are in your cinema seat, and should be put back on again when you are not eating / drinking. We respect that not everyone can wear face masks, but to keep people safe we will offer customers disposable masks if they arrive without their own mask.
What else do I need to know about my cinema visit before I come?
The chance of infection increases the closer you are to people, so we are asking visitors to maintain distance wherever possible from other visitors who are not members of your household, support bubble or group you've come to the cinema with.
Please sanitise your hands on entering the cinema using the hand sanitiser station at the front door. Please wash your hands regularly whilst in our building or use the hand sanitiser provided around the building.
Please do not bring your own food and drink into the cinema but instead buy refreshments from our kiosk to support the cinema. You are permitted to bring your own drinking water into the cinema. Payments for refreshments should be made by contactless DEBIT card payment. We do not accept corporate payment cards, benefit cards or credit cards due to the high fees levied for processing these cards and the very small margins we operate under.
Our full Terms of Admission should be consulted for those booking with us or visiting us for the first time.
What will it be like when we come to the cinema?
Please arrive at the cinema with all other members of your group. Please use the hand sanitiser which is found outside the entrance doors and put your face mask on. On entry choose whether to visit the kiosk or go straight to the door to the auditorium.
If you have not visited the kiosk on your way into the cinema and decide you would like to, we ask you to wait until the film or event has begun, when everyone else is seated, since during the 'doors' period we will be operating a one way system and you won't be able to go back into the foyer.
The QR code on your ticket will be scanned at the doors to the Stalls so please have your ticket, booking confirmation or phone screen (showing the whole non-distorted QR code) ready for scanning.
Please sit only in your allocated seats to ensure the safety of you and your party, and of our other customers – your seat details are on your tickets or booking email. If you need to get up to visit the toilet or kiosk please ensure you are wearing your face mask – your mask should remain on whilst seated except when you are consuming items from the kiosk.
Keep our staff safe by removing all rubbish and recycling as you leave. Bins which allow disposal of land-fill waste and materials for recycling (cardboard, plastic, cups, paper and cans) are to be found on all exit routes.
After the film please leave by the fire escape doors – these are to the front right of the stalls – or return via the foyer and exit via the main steps. Please remember to physically distance from other customers as you leave the cinema.
What happens if I become unwell after buying my tickets?
If you are feeling unwell, please don't visit us. Please contact the cinema as soon as possible for a credit voucher equal to the face value of the tickets to be sent to you by emailing info@hebdenbridgepicturehouse.co.uk, at the latest by 8pm on the day prior to the screening, giving your name and booking reference. We cannot guarantee ticket cancellation requests received after this time will be able to be actioned, but we do our best to be helpful to our customers.
I have an access query. Where can I find information?
The Picture House strives to be accessible to all customers. Access information, including information on wheelchair spaces and level access, toilet facilities, assistance dogs, accessible screenings and free carer tickets for those who have a CEA card, is here
ANSWERS TO OTHER QUESTIONS YOU MAY HAVE
Is my expired Gift Voucher still valid?
Our Gift Vouchers web page explains how we are honouring unused gift vouchers and provides a link to buy new style gift vouchers.
How can I help support the cinema?
Firstly, and for free, please follow us on Facebook, Instagram and Twitter and share important posts from us.
We really recommend customers receive our weekly listings by email, since we are currently not producing a monthly paper programme. If you haven't already, please sign up for the email newsletter via the link on our home page.
You can also join the Friends of the Picture House . The Friends are a friendly bunch of volunteers who constantly support us with excellent schemes such as their Making Friends monthly cinema trip for people seeking sanctuary, and with fundraising and ideas, and the Friends will no doubt help us massively when we re-open. Friends membership is free too.
I would like to Sponsor a Seat! How do I go about this?
We run a seat sponsorship scheme, via the Friends of the Picture House, to support projects in the cinema (such as the balcony refurbishment), investment in the building and new technology needed. Have your own name on your own cinema seat and support our projects at the cinema! Packages range from £100 – £250 – some include tickets, drinks and our wonderful History Book. Visit our Sponsor A Seat page for more information.