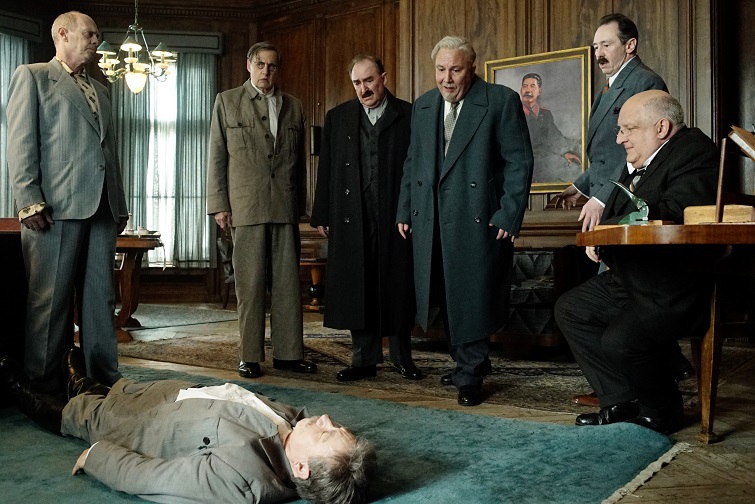 | Date | Time |
| --- | --- |
| Fri 3rd November | 7.45pm A/D |
| Sat 4th November | 7.45pm A/D |
| Sun 5th November | 4.30pm A/D |
| Tues 7th November | 7.45pm A/D S/T |
| Weds 8th November | 7.45pm A/D |
| Thurs 9th November | 10.30am A/D |
Dir: Armando Iannucci | France/UK | 2017 | 107 mins
Cast: Rupert Friend, Steve Buscemi, Jason Isaacs, Jeffrey Tambor, Olga Kurylenko, Andrea Riseborough, Paul Whitehouse, Paddy Considine
Armando Iannucci's (In the Loop, Veep) new political satire – depicting the last days of Soviet dictator Joseph Stalin and the chaos of the regime after his death in 1953 – is veritably stuffed with acting talent, including Steve Buscemi (as Nikita Khrushchev), Rupert Friend, Steve Buscemi, Jason Isaacs, Andrea Riseborough and even Paul Whitehouse. Like Iannucci's other work, it promises to be relentlessly funny, acerbic and intelligent (it's co-scripted with his former Alan Partridge collaborator David Schneider) and to offer a commentary on contemporary as well as historical politics.
The screening on Tuesday 7th November (S/T) will be shown with subtitles projected onto the screen for the hearing impaired, and these are signified by the symbol S/T on the website and in our monthly brochure. Please note all other screenings of these films are without subtitles.
A/D For the visually impaired, we offer audio description via a headset, on this film. Please ask at the Box Office to borrow a headset. All films with audio description available are signified by a single asterisk or A/D on the website and in our monthly brochure. For more information visit our Audio and Soft Subtitles Page
All times listed are the programme start time unless otherwise stated. Films start approx 30 mins after the programme start time.