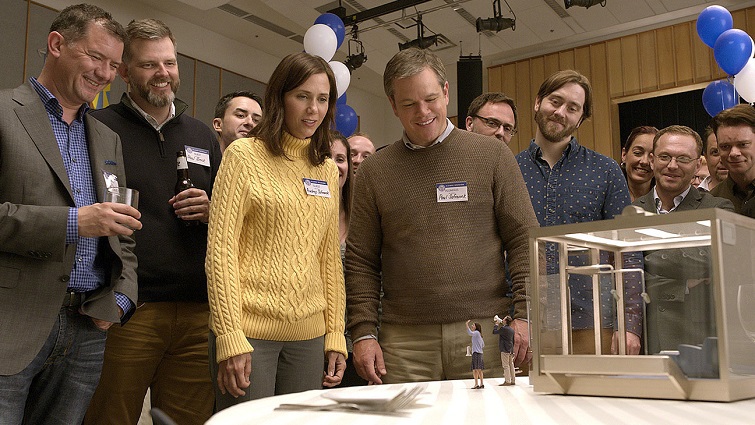 | Date | Time |
| --- | --- |
| Fri 23rd Feb | 7.45pm A/D |
| Sun 25th Feb | 7.45pm A/D |
Dir: Alexander Payne | USA | 2017 | 135 mins
Cast: Matt Damon, Kristen Wiig, Christoph Waltz, Hong Chau, Udo Kier
Despite the miniaturist theme of Downsizing, Alexander Payne's (Nebraska, The Descendants) audacious, fantastical sci-fi comedy about a couple who shrink themselves in search of a better life, starring Matt Damon, Kristin Wiig, Hong Chau and Christoph Waltz – it truly contains multitudes. Paul (Damon) wants a fresh start with Audrey (Wiig) in an overpopulated world that has seemingly found a solution to its myriad problems: 'cellular miniaturisation'. But after shrinking down, will he merely find himself in a microcosmic America as troubled as its host? It's a high concept premise handled brilliantly by Payne. Whimsical, witty and spry, Downsizing offers social satire, gentle romance and human drama alongside moments of pure comedy.
"Alexander Payne's miniature masterpiece" ***** Xan Brooks, The Guardian
All times listed are the programme start time unless otherwise stated. Films start approx 30 mins after the programme start time.