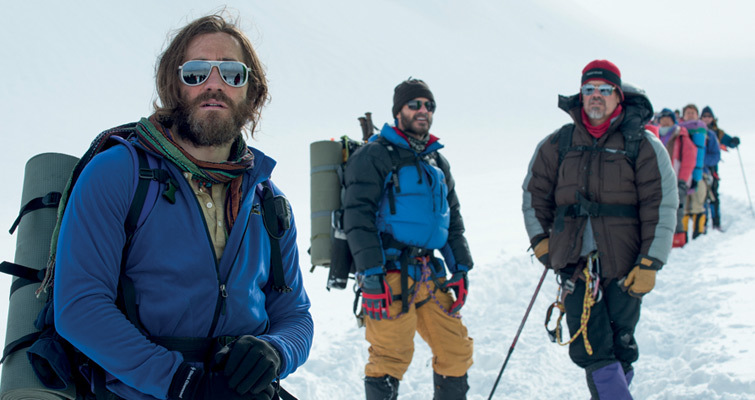 | Date | Time |
| --- | --- |
| Fri 9th October | 7.45pm |
| Sat 10th October | 7.45pm |
| Sun 11th October | 4.30pm** |
| Mon 12th October | 7.45pm |
| Tues 13th October | 7.45pm |
| Weds 14th October | 7.45pm |
| Thurs 15th October | 10.30am |
Dir: Baltasar Kormákur | 2015 | UK / USA / Iceland | 121 mins
Cast: Jake Gyllenhaal, Keira Knightley, Robin Wright, Josh Brolin, Sam Worthington, John Hawkes, Emily Watson
Jake Gyllenhaal, Keira Knightley, Robin Wright and Josh Brolin star in Baltasar Kormákur's (Jar City) nail-bitingly gripping new film inspired by the incredible true story of the 1996 Mount Everest disaster. In May 1996 a group of climbers started ascending the mountain but were tragically unprepared for an intense blizzard, which enveloped the group and resulted in terrifying catastrophe, and Everest's deadliest day. Documented afterwards by journalist Jon Krakauer (who was part of the party) and the other climbers, the stories of tragedy and survival are brilliantly depicted by Kormákur's superb ensemble cast in this taut, suspenseful and thrilling drama.
The screening on Sunday 11th October (**) will be shown with soft subtitles projected onto the screen for the hearing impaired, and these are signified by a double asterisk on the website and on our monthly brochure. Please note all other screenings of these films are without soft subtitles.
*For the visually impaired, we offer audio description via a headset, on this film. Please ask at the Box Office to borrow a headset. All films with audio description available are signified by a single asterisk on the website and on our monthly brochure. For more information visit our Audio and Soft Subtitles Page
All times listed are the programme start time unless otherwise stated. Films start approx 30 mins after the programme start time.