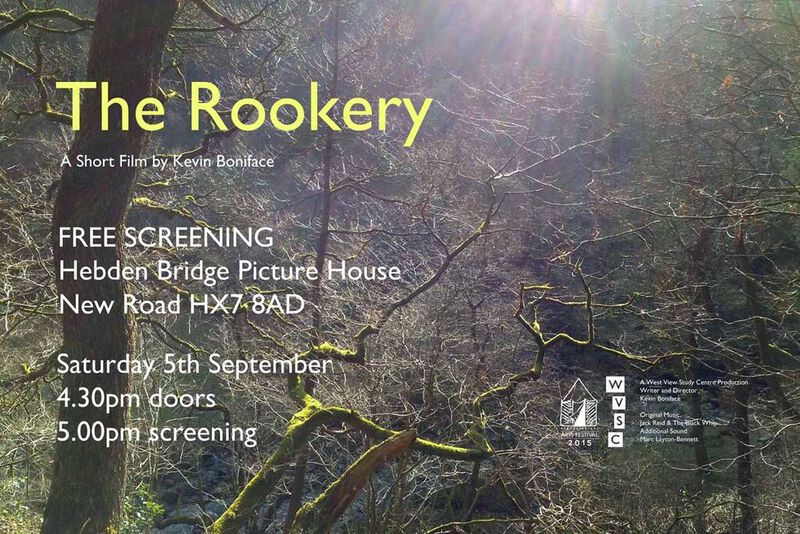 Sat 5th September at 5.00pm (Doors 4.30pm)
The Rookery is a short film (27mins) shot in Hebden Bridge and its environs between February and May 2015 by artist, writer, film maker and postman, Kevin Boniface. It is a micro-commission for Hebden Bridge Arts Festival.
Boniface took his habitual recording of sound and vision away from its usual locations and concentrated solely on Hebden Bridge. Early in the process the chatter of the ever-present jackdaws was picked up by the audio equipment and soon became a focus for the film. A rookery is a colony of breeding animals, generally birds. The jackdaws share The Rookery with walkers, bikers, canal boaters, skaters, the woman in the pinny with the squirty cream under her arm, the man who is inside a burger bun, the woman with the purple fleece and matching hair, permissive pathways, suggestive trees, an Everlast punch bag, and a psychic evening featuring psychometry…
Boniface's long running collection of short story diary entries, 'The Most Difficult Thing Ever', won Best Writing at the Blog North Awards 2012 and was published as a book/audio CD in 2013.
View the trailer here
'Britain at its most odd and its most ordinary' The Huddersfield Examiner
'A revealing miniature glimpse of "ordinary" life' The Guardian
All times listed are the programme start time unless otherwise stated. Films start approx 30 mins after the programme start time.