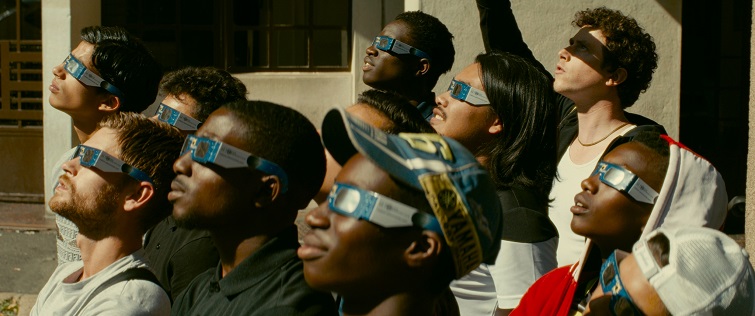 Dir: Fanny Liatard and Jérémy Trouilh
Cast: Jamil McCraven, Lyna Khoudri, Alseni Bathily
Running time: 98mins
The everyday wonders of the world around us dazzle in this thrilling feature debut, about a young Parisian whose dreams are far from Earthbound.
Yuri lives in Cité Gagarine, a vast housing project in Ivry-sur-Seine on the outskirts of Paris. It was opened in the 1960s by the famous Russian cosmonaut, after whom both the building and its young resident are named. Now in a state of disrepair, the building is to be torn down, but this once-thriving hotbed of leftist political activism still hosts a community of residents unhappy at having to leave. None more so than Yuri, who not only figures out a way to stay beyond the council-mandated evacuation order, but to create his own orbital spacecraft within it.
Fanny Liatard and Jérémy Trouilh have skilfully adapted their acclaimed short into an inventive, frequently funny and moving drama. The themes they contend with – racism, social and economic inequality, community action – are handled with an impressive lightness of touch and carried mostly by newcomer Alséni Bathily's accomplished central performance, allowing us to accompany Yuri on his increasingly otherworldly journey. Beautifully shot by Victor Seguin, Gagarine is a dazzling and wholly original take on modern-day city life.
How we list our screening timings has changed. We now list the actual film / live arts event start time, not the time of our pre-show programme. Doors usually open 45 mins before this. Please arrive in good time before the start time listed, and enjoy!
Please read our Cinema FAQs page detailing our safety guidance and refunds policy.