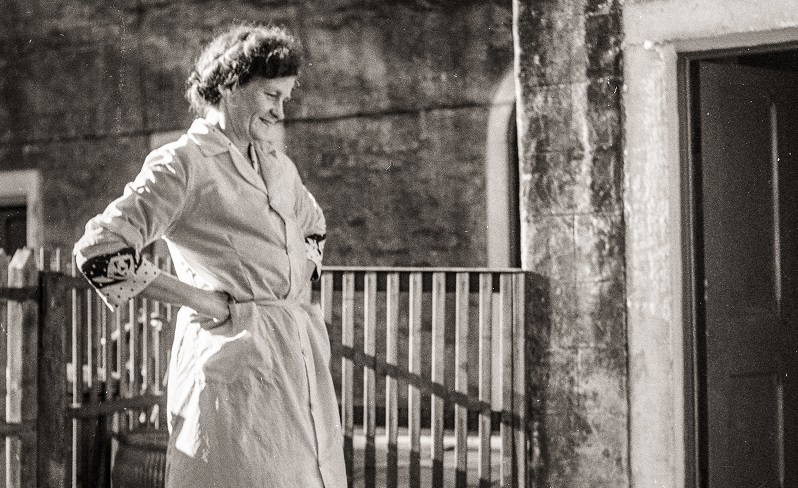 Hebden Bridge Picture House is proud to support the 2019 festival with a selection of free film screenings as well as the UK premiere of the film The Feeling of Going recorded live from the stage of Malmö Opera, Sweden. Visit hebdenbridgeartsfestival.co.uk to view the full programme.

CHANGING THE STORY: LIFE AND LEGACY IN OUR NEIGHBOURHOODS (U)
Sat 22nd June at 12pm (doors 11.45am) FREE ENTRY
What happens when young people take control of the camera? What stories might they tell about their homes, their lives and their histories? From West Yorkshire to Johannesburg, step into the shoes of these young filmmakers as they explore life and legacy in their neighbourhood in four short films about their towns, including our very own Hebden Bridge! Supported by the Bishop Simeon Trust, the University of Leeds' AHRC GCRF 'Changing the Story' project, the Centre for World Cinemas & Digital Cultures, Hebden Bridge Picture House and Hebden Bridge Arts Festival.

THE FEELING OF GOING (ADV.12A) WITH PANEL Q&A
Sun 23rd June at 5.15pm (doors 4.30pm) Advance tickets priced £10/£8/£6 available via TicketSource

Join Hebden Bridge Picture House and Hebden Bridge Arts Festival for the UK Premiere of the film of The Feeling of Going, recorded live from the stage of Malmö Opera, Sweden.

The Feeling of Going is a magical, large-scale pop-opera-dance-theatre production by an acclaimed creative team, headed by multi-talented choreographer & production director Ben Wright. The film of the production will be introduced by Ben Wright, and there will be a panel discussion and audience Q&A post film.

Created for Skånes Dansteater and Malmö Opera in 2013, The Feeling of Going was a sold out hit, delighting audiences and receiving critical acclaim. Set to Jonas Nydesjö's orchestration of GO, the award-winning album by world-renowned recording artist, Jónsi (Sigur Rós), and featuring the stunning vocal talent of Swedish musical artist Moto Boy (Oskar Humlebo) alongside soloists, the chorus and orchestra of Malmö Opera.

"Magnificent – and impossible not to love." Sydsvenskan. "Surreal, fabulous and dreamlike." Landets Fria. "It is striking how well all the artistic components combine in the joint ambition to create a contemporary dream world, merging fairytale and psychoanalysis." Skaynskan

Performance of the year Skånska Dagbladet.

INVISIBLE WOMEN (15)
Weds 26th June at 6.45pm (doors 6.30pm) FREE ENTRY
Manchester, 1969: Luchia, a teenage lesbian runaway from Ireland struggles to survive on the streets of Manchester. She's arrested and sent for a lobotomy to cure her of her "deviant sexual tendencies". Luchia escapes the lobotomy to seek solace in the New Union, a pub at the epicentre of Manchester's underground gay community. Luchia is at her lowest ebb when she hears a female student at the next table giving voice to every frustration she felt; Luchia pulls up a chair to listen. That student was Angela and this chance encounter sparked a relationship that has endured fifty years of euphoric highs and earth-shattering lows.

Angela Cooper and Luchia Fitzgerald have spent the last half a century fighting for their rights as women and as lesbians.
Their work has revolutionised Manchester whilst transforming the lives of thousands of women and yet no record of them exists in the city's archives; theirs is a story that risked disappearing from history. Until now.
​
The film was supported by Superbia in Manchester and opened the Superbia weekender at last year's Big Weekend. It was just selected for BFI Flare Festival in London where it won 'Best of the Fest' having sold out three screenings.

THE

END

OF

THE

ROLL

(U) Thurs 27th June at 1.15pm (doors 1pm)

FREE

ENTRY

Alice Longstaff is a remarkable figure in photography. Her career is one of the longest in photographic history starting in 1921 when she was 14 and continuing until her death in 1992 aged 85. An archive of her photographs and negatives is now cared for by Pennine Heritage, who are digitising and documenting Longstaff's life's work. Through Alice's photography we can take a fresh look at everyday events, sometimes whimsical, sometimes amusing, and enjoy the legacy of this remarkable Yorkshire woman. The film is narrated by Ian McMillan and produced by Greg Hobson and Pete Rush, in partnership with Pennine Horizons Digital Archive and Hebden Bridge Arts Festival. Also screening before Rory's Way & Late Night.

CALDER VALLEY SUITES (U)
Sat 29th June at 12pm (doors 11.45am) FREE ENTRY
Calder Suites is a collaboration between film-maker, Jason Elliott, and multi-instrumentalist, Colin Robinson. Each short film focusses on a small element of the local area and invites the viewer into a closer relationship with their surroundings.

All times listed are the programme start time unless otherwise stated. Films start approx 30 mins after the programme start time.