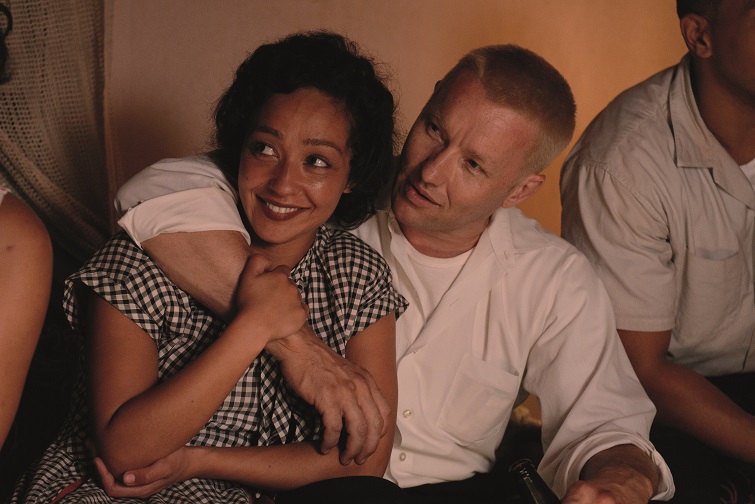 | Date | Time |
| --- | --- |
| Fri 3rd March | 7.45pm |
| Sat 4th March | 7.45pm |
| Sun 5th March | 4.30pm** |
| Mon 6th March | 7.45pm |
Dir: Jeff Nichols | USA | 2016 | 123 mins
Cast: Ruth Negga, Joel Edgerton, Michael Shannon, Marton Csokas, Nick Kroll
Ruth Negga is justly Oscar nominated for her breathtaking performance in Jeff Nichols's (Take Shelter, Midnight Special) understated, timely and incredibly moving historical drama about the remarkable story of Richard (Joel Edgerton) and Mildred (Negga) Loving. Appropriately named, they were the interracial couple who fell in love and married in 1950s Virginia, forcing them to face first jail, then banishment from the state. Determined to return to their home, their case – Loving vs. Virginia – went all the way to the Supreme Court where it became a landmark ruling in the fight for civil rights.
The screening on Sunday 5th March (**) will be shown with soft subtitles projected onto the screen for the hearing impaired, and these are signified by a double asterisk on the website and n our monthly brochure. Please note all other screenings of these films are without soft subtitles.
*For the visually impaired, we offer audio description via a headset, on this film. Please ask at the Box Office to borrow a headset. All films with audio description available are signified by a single asterisk on the website and on our monthly brochure. For more information visit our Audio and Soft Subtitles Page
Please read our Cinema FAQs page detailing our safety guidance and refunds policy.