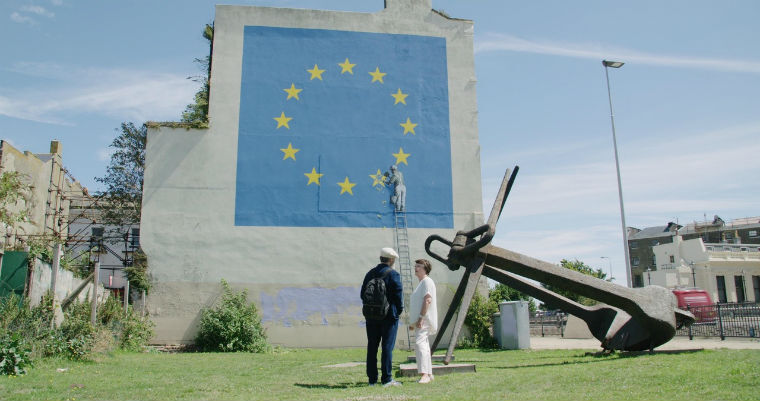 | Date | Time |
| --- | --- |
| Thurs 16th Aug | 7.15pm A/D |
Doors 7pm, film at 7.45pm; Q&A at 9.45pm.
Advance tickets priced £7/£6/£5
PURCHASE TICKETS ONLINE
A documentary film made by and featuring those who voted Remain in the 2016 British EU Referendum vote – the 48% – to show the other 27 EU Member States that it was far from a landslide victory and just why some are fighting to stay part of the EU. Partly shot in Leeds, Manchester and Sheffield, this is a film of passion and conviction from director David Wilkinson, who also made The First Film about cinematic pioneer Louis le Prince.
We will be joined by director David Wilkinson for a Q&A following the screening. The Q&A will start post film at 9.45pm and conclude by 10.30pm.
Dir: David Wilkinson | UK | 2018 | 114 mins
Documentary
David Wilkinson's thoughtful documentary takes a tour of Britain – starting at the White Cliffs of Dover before travelling nationwide – to assess the possible consequences of Brexit and the relative benefits of remaining in the European Union. Canvasing writers, campaigners, captains of industry, Holocaust survivors and features interviews with artistic and political luminaries Patrick Stewart, Vince Cable, Nick Clegg, Ian McEwan and more, Wilkinson calculate the implications of Brexit for our society, economy, infrastructure and borders. The result is a persuasive, occasionally heart-breaking and pretty much inarguable case for persisting in trying to overturn the 2016 referendum.
How we list our screening timings has changed. We now list the actual film / live arts event start time, not the time of our pre-show programme. Doors usually open 45 mins before this. Please arrive in good time before the start time listed, and enjoy!
Please read our Cinema FAQs page detailing our safety guidance and refunds policy.