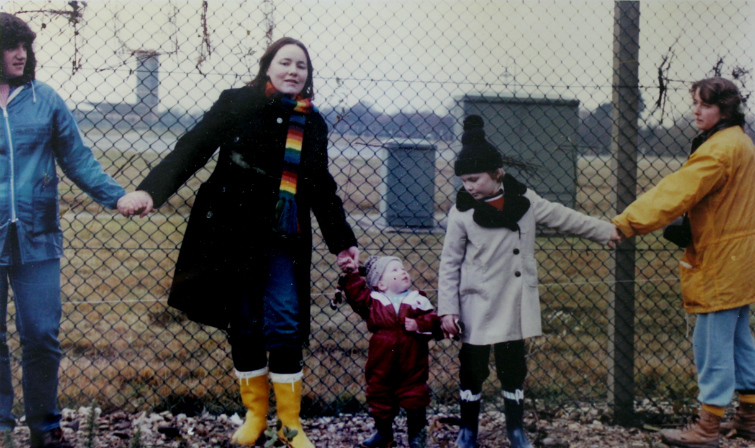 | Date | Time |
| --- | --- |
| Sat 20th Oct | 4.30pm |
Dir: Beeban Kidron, Amanda Richardson | UK | 1983 | 69 mins
Documentary
October's Teatime Classics film is screened in association with Calder Valley CND group for the 60th Anniversary of CND.
Throughout history women have mobilised to protest war and violence and in 1981, the Greenham Common Peace Camp became a shining example of how non-violent feminist action can change both lives and laws. Beeban Kidron's essential documentary – filmed while living on-site with co-director Amanda Richardson – depicts the courage, creativity and humour of Greenham's women as they protested the storage of US nuclear cruise missiles at the RAF base. A vivid, seminal work of British feminism on film, Carry Greenham Home is a testament to the enduring message of the anti-war movement.
We regret that, contrary to the printed programme, the billed accompanying short film, A Question of Choice, will not be screened.
Here's a word from your local CND group:
"This film is being shown as part of a series of events to mark the 60th anniversary of the Campaign for Nuclear Disarmament. Founded in 1958 at the height of the Cold War, CND went on to become the largest single issue campaign organisation in Europe, its logo becoming a universal peace symbol. Here in Hebden Bridge, a revived Calder Valley CND group continues to meet monthly, organising protests and events such as Hiroshima Day commemoration, International Peace Day, and White Poppy remembrance service, as well as maintaining pressure on MPs on the issues of nuclear weapons. Todmorden also recently played host to the iconic CND symbol as part of its tour of the UK.
Here in the Calder Valley, we have many women for whom CND, and in particular, the Greenham Common protests, played a major role in their lives. To complement the showing of this film, we will be holding an exhibition in October about CND with a focus on Greenham. We invite anyone who has any personal stories or memories, photos, T-shirts, leaflets, songsheets or other memorabilia, to get in touch. Calder Valley CND for Peace & Justice – www.facebook.com/groups/caldervalleycnd
01706 815155 or kathypitt725@hotmail.com"
Sign up to our weekly listings newsletter
All times listed are the programme start time unless otherwise stated. Films start approx 30 mins after the programme start time.