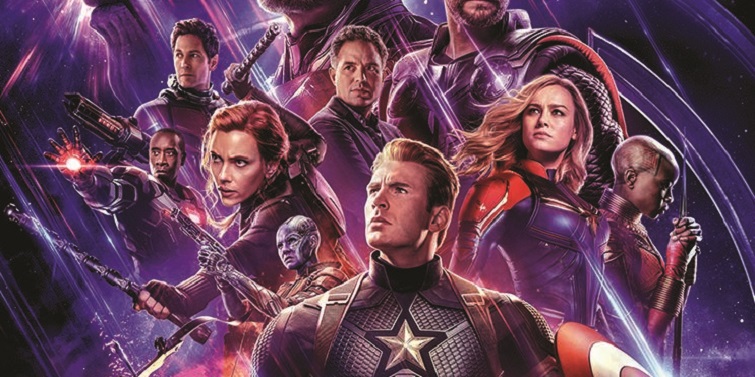 | Date | Time |
| --- | --- |
| Sat 25th May | 1.00pm |
| Sun 26th May | 1.30pm Autism Friendly |
| Mon 27th May | 1.30pm |
| Tues 28th May | 1.30pm |
Dir: Anthony Russo, Joe Russo | USA | 2019 | Run time 182 mins
Cast: Robert Downey Jr., Chris Evans, Mark Ruffalo, Chris Hemsworth, Scarlett Johansson, Jeremy Renner, Don Cheadle, Paul Rudd, Brie Larson, Karen Gillan, Danai Gurira, Bradley Cooper, Gwyneth Paltrow
Superheroes of the Marvel comic book universe unite in Avengers: Endgame, an epic action blockbuster constructed on a monumental scale and with an insanely starry cast including Robert Downey Jr., Chris Evans, Mark Ruffalo, Scarlett Johansson, Don Cheadle, Brie Larson and many more. After half of all life in the universe was killed due to the actions of Thanos in Avengers: Infinity War – including Loki (Tom Hiddleston), Benedict Cumberbatch (Dr. Strange) and T'Challa / Black Panther (Chadwick Boseman) – the remaining Avengers and their allies reassemble to try and reverse those actions in one final, glorious stand.
The Autism Friendly screening on Sunday has no adverts and trailers and the film starts at 1.30pm (door open 45 minutes prior).
For the other screenings the programme (adverts and trailers) start time is shown, and doors open 15 minutes prior to this.
How we list our screening timings has changed. We now list the actual film / live arts event start time, not the time of our pre-show programme. Doors usually open 45 mins before this. Please arrive in good time before the start time listed, and enjoy!
Please read our Cinema FAQs page detailing our safety guidance and refunds policy.