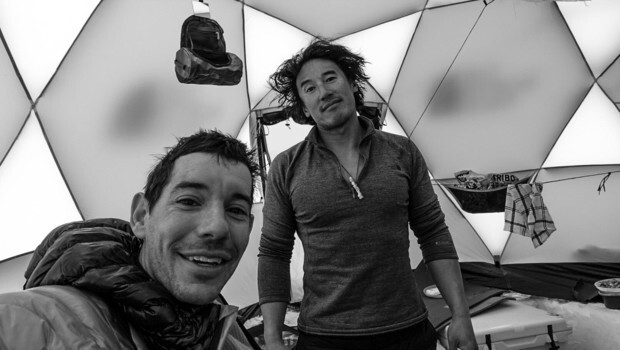 | Date | Time |
| --- | --- |
| Sat 29th June | 8.15pm |
PURCHASE ADVANCE TICKETS ONLINE £10/£9/£8
Doors open 7.15pm, Films start at 8.15pm (ads and trailers from 7.45pm)
Dir: Various | UK | 2019 | 121 mins
This summer, the Best of Sheffield Adventure Film Festival tours across the UK. Following submissions from hundreds of filmmakers, the 2019 touring programme presents 2 hours of the best of the Festival, representing the pinnacle of climbing, running and biking, adventures from the snow and streets – and the latest adventure featuring FREE SOLO's Alex Honnold and Jimmy Chin.
This collection of films has been given a 15 certificate by Calderdale MBC's Licensing department.
Queen Maud Land
"The film where Alex Honnold actually shows fear".
A dream team of six elite climbers including FREE SOLO's Alex Honnold and Jimmy Chin mount an expedition to one of the world's last great climbing frontiers: the remote frozen towers of Antarctica.
Gravitas
An incredible street workout with the Australian calisthenic athlete "Simonster".
Kai Jones
12 year old freeskiing prodigy Kai Jones rips gnarly terrain at Jackson Hole.
The Frenchy
Jacques "The Frenchy" Houot is a Colorado icon, an 82-year-old athlete who works non-stop on skis, mountain bike, and the cyclocross race circuit…
Ar Gefn y Ddraig (Riding The Dragon)
The Berghaus Dragons Back Race is the hardest 5-day mountain race in the world! Follow Huw Jack Brassington as he attempts the race – a whopping 300+ km down the spine of Wales – for the first time!
A Mile An Hour
Packing on the pounds after writing a PhD, Beau's running again. Combining a need to get rid of the gut, to run again, and spend some quality time in the shed, Beau will run a mile an hour around his perfectly mile-long block. In between he'll do as much as possible, likely becoming the fullest, meaningful, most trivial day of his life.
How we list our screening timings has changed. We now list the actual film / live arts event start time, not the time of our pre-show programme. Doors usually open 45 mins before this. Please arrive in good time before the start time listed, and enjoy!
Please read our Cinema FAQs page detailing our safety guidance and refunds policy.