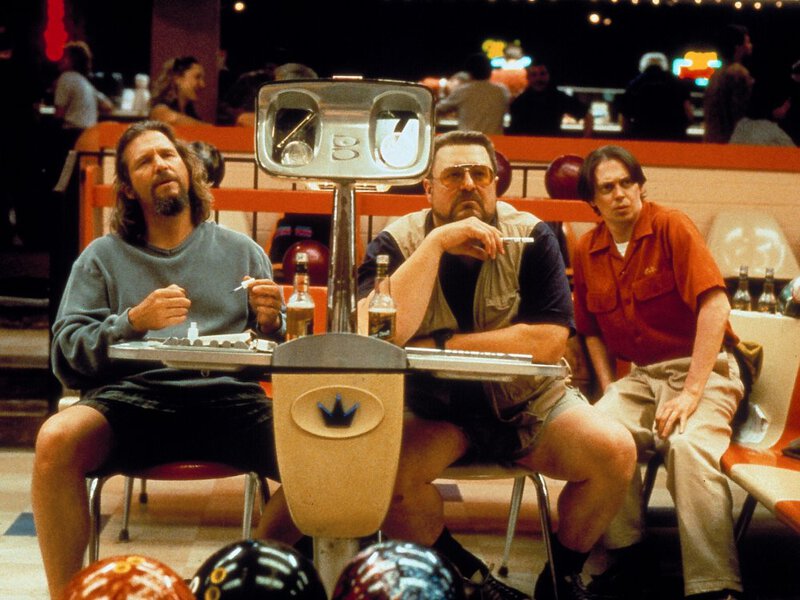 | Date | Time |
| --- | --- |
| Mon 24th Sep | 8pm |
Doors 7.00pm and film starts at 8pm
Dir: Joel & Ethan Coen | USA | 1998 | 117 mins
Cast: Jeff Bridges, John Goodman, Steve Buscemi, Julianne Moore, John Turturro, Philip Seymour Hoffman
"I'm the Dude, so that's what you call me. That or, uh His Dudeness, or uh Duder, or El Duderino, if you're not into the whole brevity thing." — The Dude
Dig out your dressing gown, jelly sandals and join us for a White Russian or two!
The quintessential cult film, powered by breakneck pacing, irresistibly quotable dialogue and brilliant performances, the Coen brothers' classic comedy of mistaken identity now has a worldwide following despite confounding critics on its initial release.
Hippie-ish stoner Jeff 'The Dude' Lebowski is mistaken for a millionaire with the same name, which error sees him roughed up and his precious rug peed on. In search of recompense, aided by pals Walter Sobchak (John Goodman) and Donny (Steve Buscemi), The Dude tracks down his namesake, who offers him a job: his wife has been kidnapped, and he needs a reliable bagman. Underneath its playful, farcical parody of film noir, it's a surprisingly humane tale.
We're a cash only venue (including the bar) so bring your paper money. There will be a variety of ways to show your support for local flood prevention charity Slow The Flow (HRTC Mayor Dr Carol Stow's charity of the year) over the course of the evening, so arrive early and join in the fun. Dressing up optional but definitely encouraged!
Doors will open at 7pm, the film will start at 8pm.
All times listed are the programme start time unless otherwise stated. Films start approx 30 mins after the programme start time.