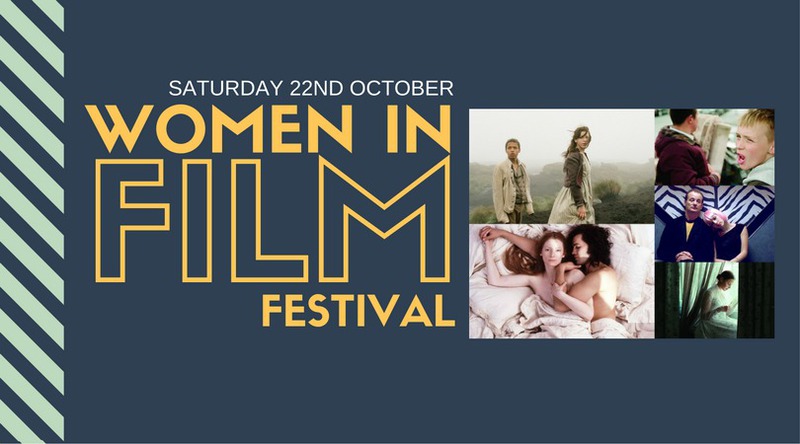 Saturday 22nd October from 10am
PURCHASE DAY PASSES IN PERSON (BOX OFFICE HOURS) OR ONLINE
www.wegottickets.com/hbpicturehouse
Throughout October we're celebrating women in film, showcasing a collection of great films directed by women; culminating in a one day film festival on Saturday 22nd October.
The day pass entitles one person to see as many of the five features as they fancy with entry and re-entry granted via wrist band (given at the first film you come to).
Doors open 30 minutes before each film. Breaks between each film last a minimum of 40 minutes, so there is time to leave the cinema for a leg stretch, with a 70 minute break built in between films 3 and 4 for an early supper. Our bar and kiosk will be open throughout.
BRIGHT STAR (PG) Feature: 10.30am (Doors open 10am)
A luminous Abbie Cornish (Somersault) stars in Jane Campion's (The Piano) tender and powerful drama is about the much-studied relationship between poet John Keats (Ben Whishaw) and his romantic relationship with Fanny Brawne. Campion's film watches as Keats – already writing some of his best work – meets fashionable, headstrong Fanny, who lives with her family in Hampstead next to his friend Charles Brown (Paul Schneider). Seeing past her flirtatious nature to a deeper, more serious side, Keats falls deeply in love with her; but his health woes may prevent their happiness. Beautifully acted by Cornish and Whishaw, Campion's film is full of freshness, feeling and immediacy.
THE SELFISH GIANT (15) Feature: 1.15pm (Doors open 12.45pm)
Clio Barnard's follow-up to 2010's The Arbor was this rapturously acclaimed, award-winning social realist drama, inspired by the Oscar Wilde short story of the same name and reminiscent of Ken Loach's Kes. It follows teenage boys Arbor (Conner Chapman) and Swifty (Shaun Thomas), growing up in a run-down area of Bradford. Arbor is hyperactive, which often gets him into trouble and when both boys are suspended from school, they start collecting and selling scrap metal. Their new occupation is lucrative, helping them form a relationship with a local scrap dealer, but eventually leads to division, and a terrible tragedy.
WUTHERING HEIGHTS (15) Feature 3.30pm (Doors open 3pm)
Award-winning British director Andrea Arnold's Wuthering Heights felt like a departure after her gritty, contemporary urban dramas Red Road and Fish Tank. But her vivid, intensely emotional focus works brilliantly in this adaptation of Emily Bronte's classic novel of tumultuous, tragic love in the bleakly beautiful rural setting of the Yorkshire moors, starring Kaya Scodelario as Cathy and James Howson as Heathcliff. Arnold's drama is a sparse, visceral vision that pares away the costume drama clichés, leaving only story, character and emotion behind and the film is all the more powerful and exhilarating for it.
ORLANDO (PG) Feature: 6.45pm (Doors open 6.15pm)
Tilda Swinton is perfect casting in Sally Potter's 1992 adaptation of Virginia Woolf's novel; the fluid imagining of a gender-shifting nobleman who – commanded by Queen Elizabeth I to stay forever young – does just that. Orlando starts his search for love, poetry, a place in society and the meaning of life, in and around the English court in the late 16th century. His extended lifespan enables him to embark on a long, deep philosophical quest – moving through a variety of lives, roles and relationships, and even changing sex. Potter's exploratory film is wonderfully stylised and benefits greatly from Swinton's brilliantly cerebral, androgynous appeal.
LOST IN TRANSLATION (15) Feature: 9.00pm (Doors open 8.30pm)
Scarlett Johansson and Bill Murray make an unforgettable odd couple pairing in Sofia Coppola's now-classic, Lost in Translation. Johansson is Charlotte, a newlywed travelling in Japan with her fey photographer husband (Giovanni Ribisi) and feeling lonely and conflicted; so is Murray's faded movie star Bob Harris, in Tokyo to shoot some depressing whisky adverts and put distance between him and his failing marriage. But they find comic relief and an instant connection in each other: and start spending time together, taking trips around a city that baffles them, and forming a moving and melancholic bond.
Advanced ticket prices available online & during box office hours
Day pass: Adult £20
over 60s / Passport to Leisure / Picture This Member £17.50
Young Person (age 15-25) / Full Time Student / Picture This Concession £15.
Entry for individual films available on the door at normal box office prices.
All times listed are the programme start time unless otherwise stated. Films start approx 30 mins after the programme start time.