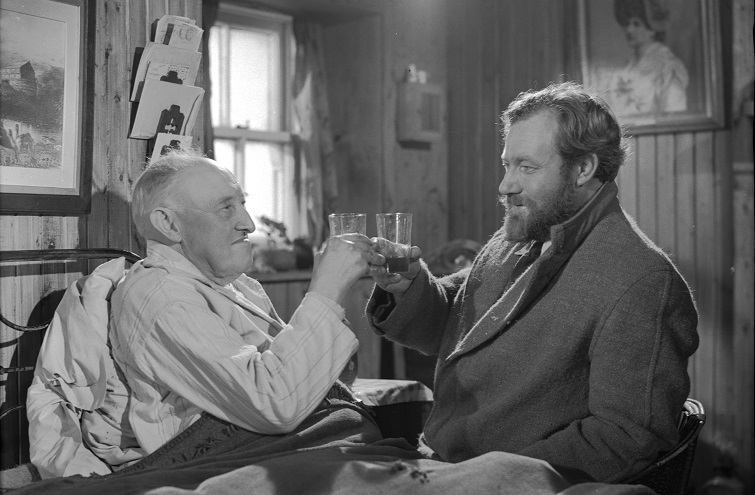 Our occasional dementia friendly screenings provide an opportunity for people with dementia, together with friends or family, to enjoy a trip out to the cinema. We aim to programme classic feel good films that everyone can enjoy together.
Screenings will usually be on a Saturday morning at 11am, with doors opening at 10.15am, and tickets available on the door, for cash (and not in advance). Usual admission prices will apply. No advance booking; entry is by way of ticket bought for cash on the door. In each case doors open 45 minutes before the film start time shown.
Our next screening
Whisky Galore! (U) Sat 17th November at 11am
Adjustments for dementia friendly screenings include:
A relaxed and friendly environment in which everyone present within the Picture House will be aware of the needs of dementia sufferers.
Lights left on low to allow people to move about without the risk of tripping, and to see where they are going. All Picture House facilities clearly labelled and signposted.
Sound level a little reduced.
No trailers, adverts or introductory music whilst waiting for the film to begin, unless they are embedded into the film.
Customers free to sing along to songs within the film or to talk.
Disabled access and wheelchair spaces available – up to 10 in the stalls.
The promise of less than full capacity so you have freedom to move around should you chose to.
Free entry for carers with valid CEA Card.
Dementia friendly cinema screenings – FAQs
Below is a list of our frequently asked questions for our dementia friendly screenings. If your questions aren't answered below then feel free to contact us on manager@hebdenbridgepicturehouse.co.uk or call us on: Weekday mornings: 01422 847287 During cinema opening hours: 01422 842807
Are dementia friendly screenings just for people with dementia? No. There are a number of sensory differences made to the cinema environment that might make these screenings more comfortable for someone with dementia. The screenings are for anyone that feels they may benefit from these adjustments, this could be someone with another sensory sensitivity or a learning disability.
Do I need to prove I have dementia? No, you will never be asked to prove your dementia diagnosis. Our dementia friendly cinema screenings are open for other people who have sensory sensitivities also, or may prefer to view a film in more relaxed surroundings.
Do carers get in for free?
We allow carers who facilitate a cinema visit for another to enter for free. Please ask for this when purchasing your ticket. To guarantee free entry for a carer at cinemas you can apply for a CEA card. The CEA card stands for Cinema Exhibitors Association Card. It is a national concessionary card developed by the UK Cinemas' Association. By purchasing one, it allows a person who meets their criteria to take a carer or a support worker into the cinema with them for free. There's a small fee for processing and postage but it guarantees free entry for a carer at most cinemas, including Hebden Bridge Picture House. Apply for your CEA card at www.ceacard.co.uk or ask for a form at the cinema.
Can siblings and friends come?
Yes, we understand people are more likely to enjoy the film if they can be with friends and family. As part of the dementia friendly adjustments we deliberately don't fill the cinema to capacity. Please exercise judgement when bringing friends and family and take other guests into consideration.
Are the cinema screenings wheelchair accessible?
Yes. We have wheelchair access, and have 8 to 10 wheelchair spaces (depending on the size of the wheelchairs). 4 of these spaces are in the body of the stalls seats and so are on sloping floor. We can provide chocks for these seats to go under the front of the wheels on your wheelchair to prevent rolling. We also have 4 to 6 spaces at the back of the seating area which are on flat ground and have room for a friend or carer to sit on alongside the wheelchair user. The best way to ensure that you have a wheelchair space is to call or email the cinema a few days in advance in order to reserve a seat.
What if we need extra adjustments? We understand that experiencing dementia is different for everyone and that some visitors may need different adjustments. You or a carer / companion are welcome to contact us before the dementia friendly screening to discuss how we can best accommodate your needs whilst still being considerate of other guests.
Do I have to book my ticket in advance?
No. You can only buy your ticket at Hebden Bridge Picture House on the day of the screening as we do not have a computerised box office system. Doors open 45 minutes before the film start time. We only accept cash. We have over 500 seats so will not sell out so don't panic! However if you require a wheelchair space, we do recommend booking as we are limited to spaces. You can call the Picture House during opening hours on: 01422 842807 or email info@hebdenbridgepicturehouse.co.uk to reserve a wheelchair space and adjacent seat(s).
How do I make a complaint or give feedback about my experience? We recommend you speak directly with the cinema staff at the time of the screening, or if you would rather, please email us on manager@hebdenbridgepicturehouse.co.uk