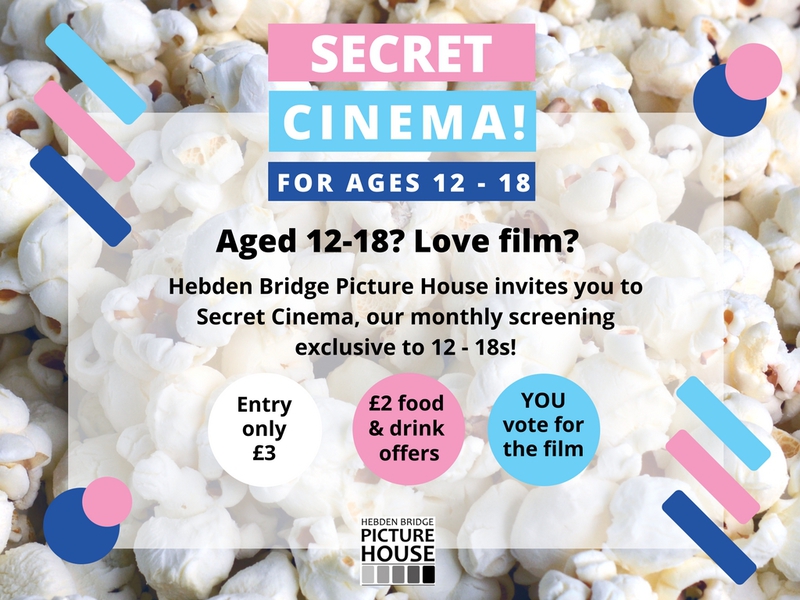 Aged 12 – 18? Love Film?
Hebden Bridge Picture House invites you to Secret Cinema, our monthly screening exclusive to 12 – 18s!
Entry is £3, enjoy £2 food and drink offers and YOU vote for the film that screens each month.
November Screenings:
Dunkirk Thursday 23rd November at 4.30pm (doors 3.45pm)
Dir: Christopher Nolan | USA/UK/France/Netherlands | 2017 | 106 mins
Cast: Tom Hardy, Kenneth Branagh, Cillian Murphy, Mark Rylance, Fionn Whitehead, Harry Styles
Acclaimed British director Christopher Nolan (Inception, Interstellar, The Dark Knight Rises) returns with Dunkirk, a brutal and epic war film with a terrific ensemble cast including Tom Hardy, One Direction's Harry Styles (in his film debut), Kenneth Branagh, Cillian Murphy and Mark Rylance. Depicting the miraculous rescue of Allied forces from the beaches of Dunkirk – where they were surrounded by the German army at the peak of Hitler's hold on Europe in 1940 – it is another brilliantly ambitious film from Nolan, vast in scale and emotional scope, with jaw-dropping action sequences and a resonant score. For maximum impact, see it on the big screen.
Join our mailing list here to be kept up to date with upcoming screenings, news and offers or email secretcinema( at )hebdenbridgepicturehouse.co.uk with your name and email address and we will add you to the list.
On Facebook? Join our closed Secret Cinema Facebook Group, invite friends and vote for upcoming screenings.