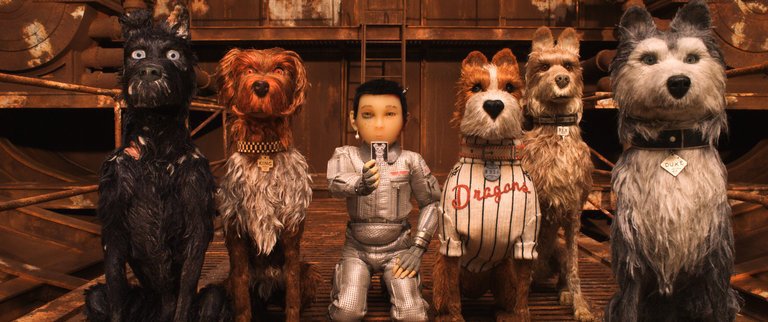 | Date | Time |
| --- | --- |
| Fri 13th April | 7.45pm A/D |
| Sat 14th April | 1.00pm A/D |
| Sat 14th April | 7.45pm A/D |
| Sun 15th April | 4.30pm A/D |
| Mon 16th April | 7.45pm A/D S/T |
| Tues 17th April | 10.30am A/D S/T Parent & Baby |
| Weds 18th April | 7.45pm A/D |
| Thurs 19th April | 10.30am A/D |
Dir: Wes Anderson | USA | 2018 | 101 mins
Voice cast: Bryan Cranston, Koyu Rankin, Edward Norton, Liev Schreiber, Kunichi Numura, Bill Murray, Jeff Goldblum, Bob Balaban, Scarlett Johansson, Greta Gerwig, Frances McDormand, Courtney B. Vance, F. Murray, Harvey Keitel, Akira Ito, Yoko Ono, Akira 0Takayama, Ken Watanabe, Fisher Stevens, Mari Natsuki, Tilda Swinton, Nijiro Murakami, Yojiro Noda, Frank Wood
Wes Anderson's second stop-motion animation (following Fantastic Mr Fox) promises to be another joyfully idiosyncratic triumph. Exquisitely made, its eclectic voice cast includes Bryan Cranston, Harvey Keitel, Akira Ito, Greta Gerwig, Bill Murray and… Yoko Ono amongst many others. When, by Executive Decree, the canine pets of Megasaki City are exiled to a vast rubbish dump, Trash Island, 12-year-old Atari Kobayashi (Koyu Rankin) sets off alone in a miniature Junior-Turbo prop and flies across the river in search of his bodyguard-dog, Spots. There, with the assistance of a pack of newly found mongrel friends, he begins a journey that will decide the future of the entire Prefecture.
The screening on Mon 16th March and Tues 17th March (Parent and Baby) (S/T) will be shown with subtitles projected onto the screen for the hearing impaired, and these are signified by the symbol S/T on the website and in our monthly brochure. Please note all other screenings of these films are without subtitles.
A/D For the visually impaired, we offer audio description via a headset, on this film. Please ask at the Box Office to borrow a headset. All films with audio description available are signified by a single asterisk or A/D on the website and in our monthly brochure. For more information visit our Audio and Soft Subtitles Page
All times listed are the programme start time unless otherwise stated. Films start approx 30 mins after the programme start time.